Renovated house with garden in La Devesa
698.000€

For sale

282m2

4 rooms

3 bathrooms

c/ Canonge Dorca, La Devesa.

Girona
The home
698.000€
Workspace (office, local)
282m2
4 rooms
3 bathrooms
Terrace
Garden
Heating
Air conditioning
Unfurnished
Brand new
You would like to know…
The house, currently to be renovated, is in the project phase and is being sold renovated.
This house is one of the Escatllar Houses, by the Girona architect Josep Claret.
It consists of three floors - basement, ground floor and floor - and a garden to the rear.
The distribution of the ground floor can consist of a living room, dining room, kitchen and a bathroom.
The living room and kitchen have access to the rear terrace which, at the same time, gives access to the garden.
The first floor can have four bedrooms, two bathrooms, and a laundry room.
The basement is a multipurpose space that can be used as a warehouse, study, etc. also with direct access to the garden.
The floor has two bays with Catalan vaulted ceilings. 
The rehabilitation of this building is done following the INCOVI-ECO8 model, which considers the most demanding parameters in terms of sustainability (construction process and systems, good insulation, efficient installations ...), achieving high energy efficiency and a high    level of comfort.
 One of the distinguishing features is the possibility of personalizing the house.
 Images of an example of recovery of a house of the same type are shown.
It's special because…
The house is part of the work carried out by the renowned architect Josep Claret, the only Girona member of the GATCPAC, an architectural movement of the 1930s, who wanted to modernise architecture according to the European avant-garde rationalism.
The house is characterised by its simplicity and open spaces.
It is very interesting to find a house with a garden in this area.
c/ Canonge Dorca, La Devesa.
Girona
Would you like more info or schedule a visit?
Ask our agent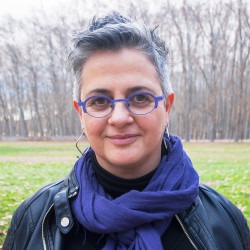 Míriam Vidal
Languages:
Castellano
Català
English
Français
Do you want to know more about Míriam Vidal?
Do you have any question?
We will get back to you in less than 24 h