Listed modernist building to partially rehabilitate
725.000€

For sale

1.260m2

Joan Bosco, Pont Major.

Girona
The home
No heating
Unfurnished
In good condition
You would like to know…
The building is modernist and is catalogued by the Girona Historical-Artistic Heritage Catalogue. It was built in 1912 by the architect Enric Catà i Cató following the modernist trends of the time.
It is an industrial building with a ground floor plus two upper floors. 
It is part of the traditional industrial constructions of the beginning of the century that, in spite of adopting Modernism, uses in a rational and sincere way all the materials of the popular constructive tradition. The barrel room stands out, with walls decorated with fire stucco. The collection of machinery is considered a piece of industrial archeology, such as the old steam engine and some stills.
The façade stands out for its originality: the symmetrical composition, the shape and size of the openings, the chromatism, the texture, the materials and the wrought iron pieces, vitrified ceramic, ashlars, ...
The orientation is east-west and the main entrance to the building is on the east façade (street).
The first floor has a restaurant and a store ready to operate, with its corresponding warehouses. The first floor is currently distributed in offices and other rooms, and the second floor is used as a warehouse. 
The building was partially renovated in 2001, and the two upper floors are pending renovation. Taking into account the renovation that was done at the time, the current use and the proximity to the city center, the building has the potential to host a themed hotel activity.
The area has the typical services of a neighborhood: 4 minutes walking distance to the CAP, a cultural center and the public library; the Ter river runs behind it, with lots of vegetation in its riverbed, and a bike path that allows you to reach the center of Girona in 8 minutes. The bus stop that communicates with the center is right next to the building.
The neighbourhood also has a sports pavilion, a soccer field, a children's home and two schools.
It's special because…
The building is modernist and is cataloged by the Catalog of Historical-Artistic Heritage of Girona, for its facade, interior decorative elements, industrial machinery,....
The current activity is a restaurant and store, in a recently renovated space that combines antique elements with modern finishes.
The proximity to the city center, the renovation to be carried out and the existing activity offer great potential for a themed hotel activity renovation.
Joan Bosco, Pont Major.
Girona
Would you like more info or schedule a visit?
Ask our agent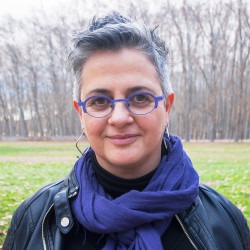 Míriam Vidal
Languages:
Castellano
Català
English
Français
Do you want to know more about Míriam Vidal?
Do you have any question?
We will get back to you in less than 24 h