5 bedroom house with garden and garage in Les Pedreres
Sold
445.000€

For sale

188m2

5 rooms

2 bathrooms

Pujada Torre Alfons XII 7, Les Pedreres.

Girona
5 bedroom 187sqm house in Les Pedreres, with a 675sqm garden with beautiful views. This house is in the surroundings of the AC Palau de Bellavista hotel.
The entrance floor has 63.80 sqm and is distributed with an entrance hall, dining area (large, with lots of light, nice views, and an exit to a terrace in the garden), kitchen (with exit to the garden), 1 bedroom, and a toilet.
The main plant is 60.90sqm and is distributed with 3 double bedrooms and one individual bedroom (3 of them have an exit to a balcony with excellent views), 1 bathroom, and a storage place.
The house also has 23.10 sqm garage at street level and a huge 625 sqm garden, which enables the option to extend the house.
The home
445.000€
Single-family detached
188m2
5 rooms
2 bathrooms
Energy efficiency rating
Terrace
Garden
Heating
Built-in closets
Unfurnished
In good condition
The building
Private garage
No elevator
You would like to know…
The planning regulations allow an extension of the house with an increase of 200sqm. 
All of the rooms are exterior and have wide openings which let lots of light come in.
There is a stone fireplace inside the living room.
The garden is very large with big a olive tree as a central element. It also has a BBQ, clothesline...
Views over the city of Girona and Sant Daniel valley.
The entrance of the house is via a porch which runs along the south facade and protects it from the sun.
The house is in a quiet area, only 10 minutes by foot from Plaza Cataluña.
At 3 minutes walking there is the public school Annexa- Joan Puigbert. At 5 minutes, the Jaume Vicens Vives institute.
It's special because…
The aesthetics of the 60s is present throughout the house, the furniture left, the stone planters, the finishing materials, joinery ...
From the dining room, one has open views to the garden and can enjoy the sun.
From the kitchen, there is access to the garden.
The big olive tree in the garden offers a very nice shade: an ideal place for spending long afternoons reading, for example.
Pujada Torre Alfons XII 7, Les Pedreres.
Girona
Public transportation
Bus: L7 (Torre Gironella- Hospital de Salt). The bus stop is at 55m from the house and only at 5 min. walk to Plaça Catalunya.
Would you like more info or schedule a visit?
Ask our agent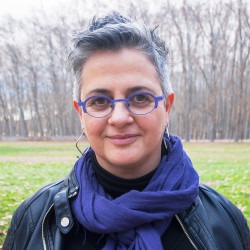 Míriam Vidal
Languages:
Castellano
Català
English
Français
Do you want to know more about Míriam Vidal?
Do you have any question?
We will get back to you in less than 24 h