Two-Bedroom Apartment in Plaza Santa Caterina
Rented
1.300€

For rent

90m2

2 rooms

2 bathrooms

Plaça Santa Caterina 1,

Barcelona
Good Aim
To have or not to have good aim, this is the question. Some people have it, and quite good. Once, a few years ago, I was invited to lunch at this apartment. Julia, the owner, my colleague at the time, had given birth to a baby a few weeks earlier. So a few coworkers accepted her invitation so we could meet her new baby. We got together and as we went up the stairs and she opened the door, we all exclaimed a "wow!" in unison. Because the scene was so nice: Julia wearing an apron while she was preparing a delicious salad and baby Carla was dozing in her hammock. That scene fascinated me and stayed in my memory to the point that years later, in the midst of founding Monapart and searching for authentic and awesome homes, I recalled it often. Because Julia and her partner had good aim in choosing everything: the nice apartment, its good distributions, the color balance, the quality of the materials, the combination of the past and the new things… And good aim is scarce!
The home
1.300€
Apartment
90m2
2 rooms
2 bathrooms
Heating
Unfurnished
Community expenses included
In good condition
You would like to know…
It is a newly renovated apartment with Catalan vaulted ceilings reinforced with steel beams in a landmark building from1750.
All facilities have been renovated.
Oak parquet flooring and some brick walls.
The opened kitchen is equipped with oven, microwave, refrigerator and dishwasher.
Very nice and quiet pedestrian area near Mercat de Santa Caterina.
Vehicle access only through the market's parking, just for loading and unloading of goods.
It's special because…
Dining-room and kitchen share the same large space, and its high beamed ceilings, large windows and brick walls give it a lofty atmosphere.
Being a corner apartment has plenty of natural light.
The nice building, from 1750, has been registered as singular and is in good condition.
Pickled wood door is very old, with enormous hinges and a peephole.
Plaça Santa Caterina 1,
Barcelona
Public transportation
Subway: Sant Jaume (L4) and Urquinaona (L1 and L4).
Bus: V15, V17, 45.
Would you like more info or schedule a visit?
Ask our agent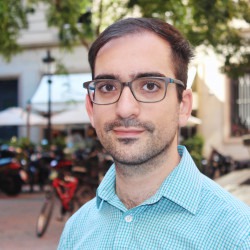 Jaime Arribas
Languages:
Castellano
Català
English
Français
Italiano
Português
Do you want to know more about Jaime Arribas?
Do you have any question?
We will get back to you in less than 24 h