Two bedroom apartment in Eixample
Sold
240.000€

For sale

90m2

1 room

1 bathroom

Diputació 155, Eixample.

Barcelona
The Apartment of Stone
The owner of this apartment is a peculiar person. Among my childhood friends we call him "The Stone". He could leave a relationship or be left, to score a goal after an epic run, suffer a car accident, lose the watch, get a degree, fall into a coma, or recover from a coma, dye his hair into blue Klein ... All these without ever change his mood.
Even today, I think his way of being is really his true essence, some form of pathology and an youth attitude carried too far. But the fact is, that having bygone the 40s with any gray and being admired by his former classmates for keeping the same look through the years, exacerbates the myth of his true stoned nature. Immune to all, insensitive to time.
The home
Heating
Air conditioning
Built-in closets
Unfurnished

Community expenses:

34€/month
In good condition
You would like to know…
Completely refurbished in 2004.
Lounge, dining and kitchen area of 32 sq.m with three windows facing the street.
4 sq.m small courtyard that can be covered (there is a written permission by the neighbors) and become pantry or storage room.
It's special because…
Good level of finishes and materials: wooden floors and marble, recessed lights, aluminum frames with double glazing, air conditioning ducts and built-in closets in both bedrooms.
Clear views.
Diputació 155, Eixample.
Barcelona
Public transportation
Subway: L1 - stop "Urgell".
Bus: 14, 20, 37, 59, N1, N2, N13, N14, N15, N16, N17
 
Would you like more info or schedule a visit?
Ask our agent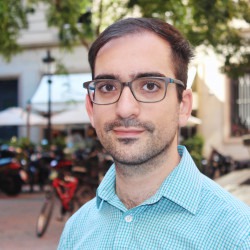 Jaime Arribas
Languages:
Castellano
Català
English
Français
Italiano
Português
Do you want to know more about Jaime Arribas?
Do you have any question?
We will get back to you in less than 24 h