Three Bedroom Apartment in Barri Gòtic
Sold
295.000€

For sale

117m2

4 rooms

1 bathroom

Portaferrissa 28,

Barcelona
Gregarious Spirit
In a chapter of The City of Marvels, Eduardo Mendoza says there are no more gregarious people than the Catalan people. I would extend it to most countries of the Mediterranean basin, because while we are part of this region linked (or separated) by the Mediterranean sea, I agree that we Catalans like to live together. Is for this reason, that the center of many cities, which usually corresponds to the original urban core, is composed of sections of irregular streets and buildings as high as the construction technique of the time allowed.
The Barrio Gòtic, and ​​Ciutat Vella in general, are a good example of these narrow urban streets and even narrower passages, probably due to the local gregariousness we are talking about.
The home
Balcony
Heating
Built-in closets
Unfurnished

Community expenses:

80€/month
For renovation
You would like to know…
It has a living room divided into two connecting pieces that can easily become a larger, splendorous and bright living room.
Original woodwork and mosaic tiled floors in most rooms.
The kitchen, the bathroom and the entrance are very large.
One of the bedrooms overlooks a beautiful patio.
It's special because…
Excellent location in the heart of Barcelona, in one of its main streets.
Five-storey building built in 1857 with charming common areas.
Portaferrissa 28,
Barcelona
Public transportation
Metro L1 (Catalunya) | L3 (Liceu) | FFCC (Catalunya)
Would you like more info or schedule a visit?
Ask our agent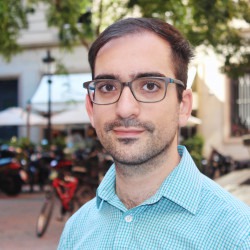 Jaime Arribas
Languages:
Castellano
Català
English
Français
Italiano
Português
Do you want to know more about Jaime Arribas?
Do you have any question?
We will get back to you in less than 24 h