One Bedroom Apartment in Barceloneta
Rented
900€

For rent

55m2

1 room

1 bathroom

Passeig Joan de Borbó 9,

Barcelona
Sea, Palm Trees and Peixet Fregit Under the Sun
Go out in the morning to run along the seaside. Look out through the balcony and breathe the scent of palm trees and the sun-bathed masts. And at noon, the smell of peixet fregit attracts both locals and tourists to the Barcelona seafront.
La Barceloneta has its own palette of scents that make it so unique and special. The smell of vermouth (always with an olive), bombas, sauteed shrimps, Russian salad, small transparent napkins, vocational waiters and stray cats ... I once had a boyfriend who disliked very much the smell of fried fish. But it was kind of reasonable, because he always wore flannel. But I guess you will not have that problem, because if you are looking for an apartment near the sea here in Barceloneta, so sure is that fried fish smell does not bother you as you never wear flannel.
The home
900€
Apartment
55m2
1 room
1 bathroom
Heating
Unfurnished
Community expenses included
Brand new
You would like to know…
Located in the waterfront district of Barcelona, ​​enjoying great views to Port Vell.
The reform has been carried out by the architect Teresa Rumeu and has maintained the original charming features: tiled floors, stripped wooden doors, molded ceilings, balconies ...
It's special because…
It is a bit noisy because Paseo Joan de Borbon is always very busy. But if you go up the marina, the area will greatly compensate you.
Close to the beach, if you like running by the sea or make the iguana when weather gets hot.
Very close to Mercado de la Barceloneta (farmer's market) so you can buy fresh local produce.
Passeig Joan de Borbó 9,
Barcelona
Public transportation
Metro L4 (Barceloneta stop).
Bus lines: 39, 45, 59, 64, D20, V15.
Would you like more info or schedule a visit?
Ask our agent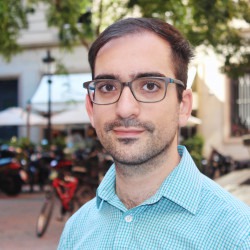 Jaime Arribas
Languages:
Castellano
Català
English
Français
Italiano
Português
Do you want to know more about Jaime Arribas?
Do you have any question?
We will get back to you in less than 24 h