Design studio in Ciutat Vella
Sold
210.000€

For sale

45m2

1 room

1 bathroom

Ramelleres 9,

Barcelona
Small Country
When I visited this magnificent study, I remembered that beautiful poem by Salvador Espriu ...
What small country
surrounding the cemetery!
This sea, Sinera,
pine and vineyards polecats,
river powder. I do not want
nothing else, except the travelling shadow
on a cloud.
The slow memory
of days
that are passed forever.
The home
Furnished
Heating
Air conditioning
Built-in closets

Community expenses:

55€/month
In good condition
You would like to know…
32 sq.m studio superbly renovated with high quality finishes.
Equipped with designer furniture and bespoke kitchen with appliances.
Balcony overlooking one of the most beautiful squares in Barcelona.
It's special because…
This apartment has been featured in various interior design magazines, general press and television because of its magnificent interior design.
Excellent location. Two minutes walk from Plaza Catalunya and the city center.
Ramelleres 9,
Barcelona
Public transportation
Subway: L1, L2, L3. Stop Catalunya. FGC: L6, L7, S1, S2, S5, S55. Stop Catalunya. Bus: 14, 59, 67, 68, 91, N1, N2, N3, N6, N8
Would you like more info or schedule a visit?
Ask our agent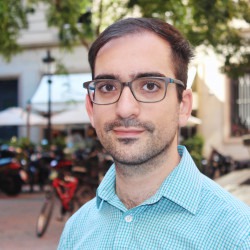 Jaime Arribas
Languages:
Castellano
Català
English
Français
Italiano
Português
Do you want to know more about Jaime Arribas?
Do you have any question?
We will get back to you in less than 24 h